關於各國的萬聖節美食,我們特別翻譯外國網站的原文供大家參考。
資料出處  : https://www.littlepim.com/halloween-food-around-the-world/
Halloween food around the world
For most American families, Halloween "treats" mean one thing: candy – mounds of bite-size morsels heaped into kids' bags in exchange for that magic phrase: "Trick or treat!" Other cultures, however, celebrate All Souls' Day, All Saints Day or Dia de Los Muertos (Nov. 1 and 2), from which our Halloween (All Hallows Eve) is derived, with different sorts of treats. Why not expand your family's cultural horizons this Halloween by trying some of these traditional sweet treats from around the globe?
各國的萬聖節美食
大多數的美國家庭,在萬聖節都會吃糖果,ㄧ堆一口大小的糖果糕點會塞進孩童的袋子裡,做為那句魔咒"不給糖就搗蛋"的交換。然而,其他國家也衍生出以其他方式慶祝萬聖節或者萬靈節的慶典(11月1號和2號)。何不試著用其他國家的傳統甜點來拓展你們家萬聖節的慶祝方式呢?
Here are a few ideas about food from Halloween around the world – about what people eat in other countries, and recipes to go with them.
這裡有ㄧ些世界各地萬聖節人們會吃些什麼的點子

Soul cakes (England and Ireland): These sweet, round cakes were traditionally given out in England and Ireland on All Saints Day or All Souls' Day during the Middle Ages to those who went door-to-door saying prayers for the dead in what may be the forerunner to today's trick-or-treating. They can be made with raisins and currants and aromatic spices like allspice, nutmeg, cinnamon and ginger.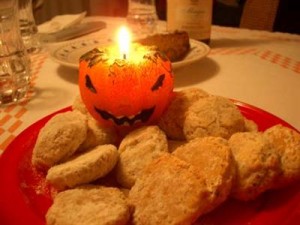 靈魂蛋糕 (英格蘭及愛爾蘭): 這些甜的圓型蛋糕在中古世紀時,於英格蘭和愛爾蘭在萬聖節以及萬靈節時,用來發給那些挨家挨戶為死者祈禱的人,據說這些人或許就是今天"不給糖就搗蛋"的先驅。這些蛋糕可以用葡萄乾、黑加侖以及像百香果的香料,還有肉豆蔻、肉桂粉和薑做成。
Fave dei morti (Italy): In Italy, All Souls' Day may be celebrated with delicate cookies (sometimes white, brown or pink) – made with almonds and covered with sugar – called Fave dei Morti or Ossei dei Morti, whose name translates to "Beans of the Dead" or "Bones of the Dead."
蠶豆酥: 在義大利,萬聖節可能會有美味的蛋糕 (有些時候是白色、綜色或者粉紅)-以杏仁做成並且用糖粉覆蓋,稱作蠶豆酥,翻譯作"逝者之豆"或者"逝者之骨"。
Pan de Muerto (Mexico):  This soft sweet bread is a Dia de Los Muertos (Day of the Dead) tradition in Mexico, sometimes eaten at the grave of a loved one or placed on an altar. It may be flavored with orange zest or decorated with a teardrop or bones, perhaps placed in a circle to represent the cycle of life. Some people even mold the bread into animals, angels or other evocative shapes.
亡者麵包(墨西哥): 這種甜麵包是在墨西哥死亡日的傳統,有時會放置在祭壇上或者在摯愛的墓地食用。可能會做成橘子口味或者用水滴還是骨頭裝飾,或者會排城ㄧ個圓型代表生命的循環。有些人甚至會做成動物、天使或者其他能換起回憶的形狀。

Guagua de pan (Ecuador): These "bread babies" – sweet rolls molded and decorated to look like small children or infants – are part of the Day of the Dead tradition in parts of South America. Often made of wheat and sometimes filled with sweet jelly, they may be exchanged as gifts between families and friends or used ceremonially.
瓜瓜麵包 (厄瓜多爾)-這些"麵包寶寶"是用甜麵粉滾成,並且裝飾成小孩的臉或者嬰兒,這是南美亡靈節的一部分傳統。ㄧ般會用小麥做成,用甜果醬當內餡,可做為家人朋友間的交換禮物,或者儀式上的用途。